Freddo Flapjacks
Classic chewy flapjacks topped with a thick layer of milk and white chocolate, and a freddo bar!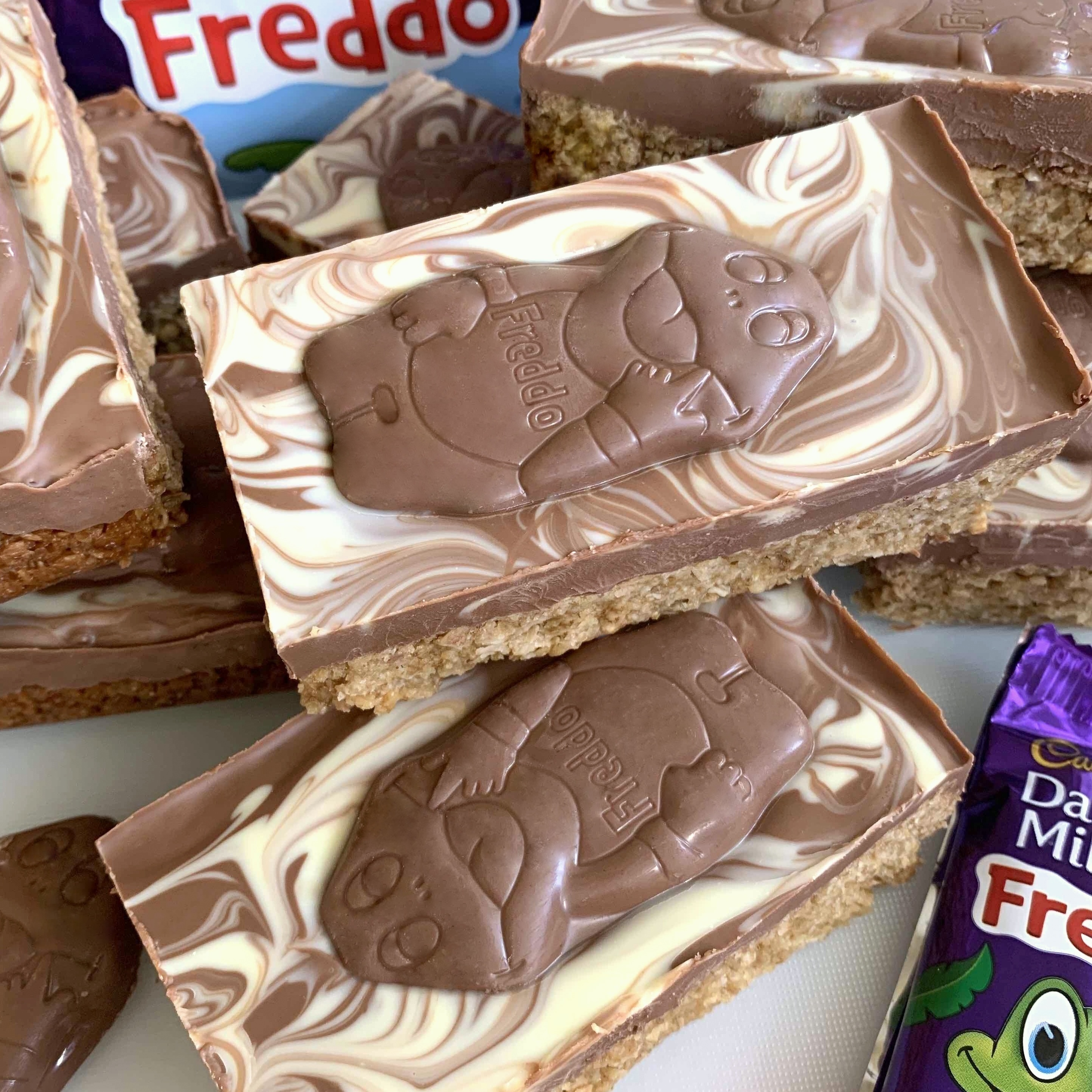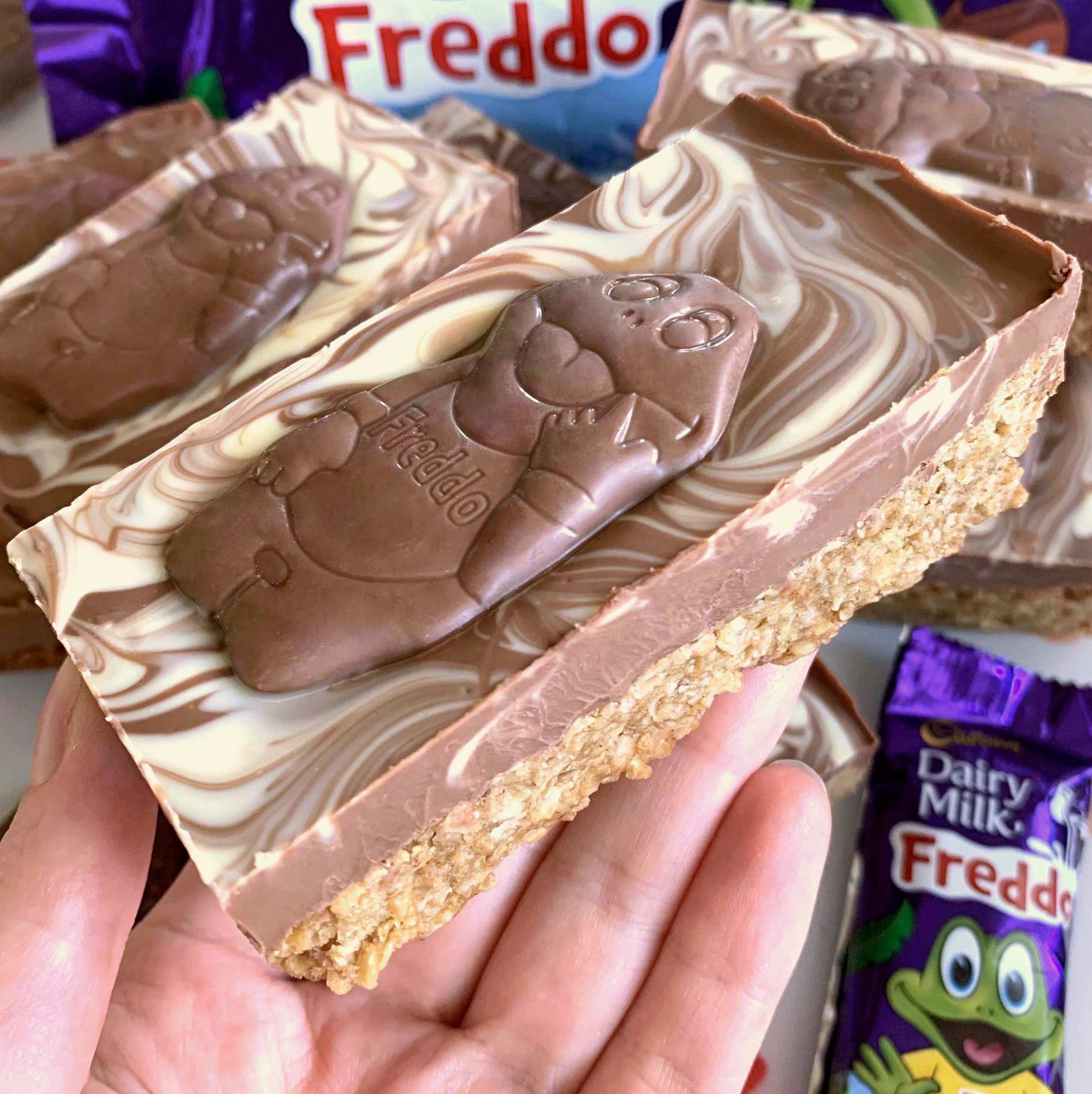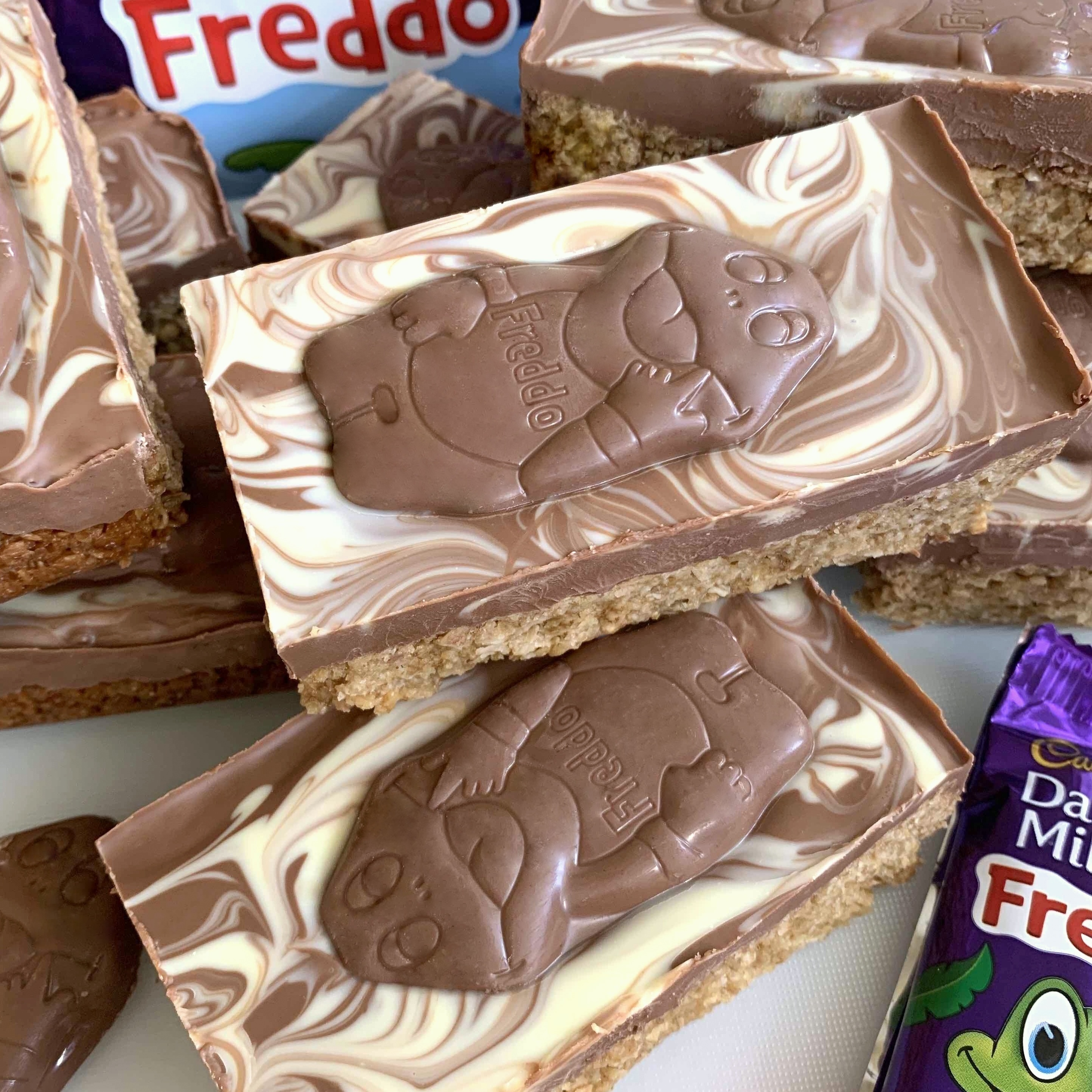 Freddo Flapjacks
Difficulty
Time 1.5 hours (including cooling)
Servings 8 (or 16 if you're okay with cutting the freddos in half!)
Ingredients

For the flapjacks
Light Soft Brown Sugar (125g)
Golden Syrup (100g)
Salted Butter (175g) (or you can use unsalted butter and add a pinch of salt)
Rolled Oats / Porridge Oats (325g)
For the topping and decoration
Milk Chocolate (300g)
White Chocolate (75g)
8 Freddo Bars

Method

Line a 8"x8" baking tin and preheat the oven to 180C (350F) standard / 160C (320F) fan. Add the oats to a large bowl and set aside.
Gently melt the butter, brown sugar, and golden syrup in a saucepan on a low-medium heat until smooth and gently bubbling.
Take off the heat and pour in to the bowl with the oats. Stir until fully combined.
Press the mixture in to the lined baking tin and bake for 20-25 minutes until the edges have started to golden. (The flapjacks will still look soft, this is okay, they'll harden as they cool!)
Once cooked, leave to cool on a wire rack for 30 minutes before topping and decorating.

For the topping and decoration

Melt the milk chocolate in a double boiler (or in the microwave in 20 second increments) until smooth. In a seperate bowl melt the white chocolate.
Pour the melted milk chocolate on top of the cooled flapjacks. Smooth out the chocolate to form an even layer completely covering the flapjacks. Then spoon on dollops of white chocolate, and swirl using a cake skewer or knife. (Tip: If you give the tin a little shake on a flat surface this will help smooth the chocolate out!)
Leave the chocolate to cool until slightly warm (this took 30 minutes in my kitchen) then gently press on 8 evenly spaced freddo bars. (Be gentle, if the chocolate layer is still very warm then the freddos will melt away!)
Leave to cool in the fridge until set, then take the flapjacks out of the tin and cut in to portions. Enjoy!

Notes

- Store your freddo flapjacks at room temperature, where they will last for 1 week!
- The topping and decoration can be altered to your taste. E.g. as it's quite thick you could instead use 200g of milk chocolate. Dark chocolate could also be used for a less sweet topping!

Recommended Equipment and Ingredients*

*I earn a small amount of money if you buy the products after clicking the links. You will not be charged extra for this. Thank you for your support!